---
03-18-20
CORONAVIRUS UPDATE
In light of the Coronavirus mandates and recommendations we have decided to reschedule all of our classes for April. A number of our students and instructors are in the high-risk category for age, preexisting health issues or both and would be coming from all over Ohio as well as other states. There is too much potential for someone getting sick then spreading it over a huge area, or worse. The safety of our students and instructors comes first. It has been decided for our April classes to change the schedule as follows:
April 2-3 FIST will be held October 29-30
April 4-5 FIST will be held October 31-November 1
April 17-19 Tactical Rifle I will be held June 26-28
April 24-26 Handgun I-III will be held August 21-23
Additionally, we have a Tactical Rifle I class July 24-26 with openings. We have Handgun I-III classes in September, October and November with openings. You may transfer to any of these classes if the revised dates above do not work for you.
If you are registered for any of our classes in April you can transfer to another class, request a credit of your deposit to be held for a future class or request a full refund of your deposit. Please do not try to transfer your class on our website, as it will require a credit card payment. Please email tdiohio@gmail.com with your requests and I will respond as quickly as I can. Transfer requests will be on a first come first served basis until the class is full.
We will update everyone with further information and/or changes as new information becomes available. Please continue to check our website at tdiohio.com and our Facebook page. If you have any questions or concerns please do not hesitate to let us know.
Stay safe,
Tactical Defense Institute
---
11-23-19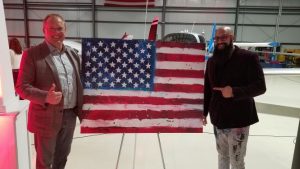 TDI had 22 people attend the Stars and Stripes event at Lunken Airport in support of Honor Flight Tri-State. TDI instructor Joe Suhre won the bid for this original painting by Joe Everson. If you would like to support Honor Flight Tri-State, please visit https://www.honorflighttristate.org/ .
---
1-9-19
With the FASTER program it seems like we have more Foreign Press than Mainstream Media interest. When FASTER Saves Lives and Buckeye Firearms Association said we had a writer from GQ Magazine attending we were a little surprised. Here is the article.
---
09-11-18
The staff at TDI have put together a class checklist. This document addresses what may or may not be needed for each class. Click here to download.